How To Get Your Home Ready For Your Baby
Here at Sweet Baby Face, we love getting to be a small part of the journey to growing a family. We created our blog to help parents prepare for the arrival of their little one, and in today's post we're covering a few tips for getting your home ready for your new baby. Continue reading to learn more, and if you're looking for an elective ultrasound in Louisville or Elizabethtown, contact our ultrasound clinic today.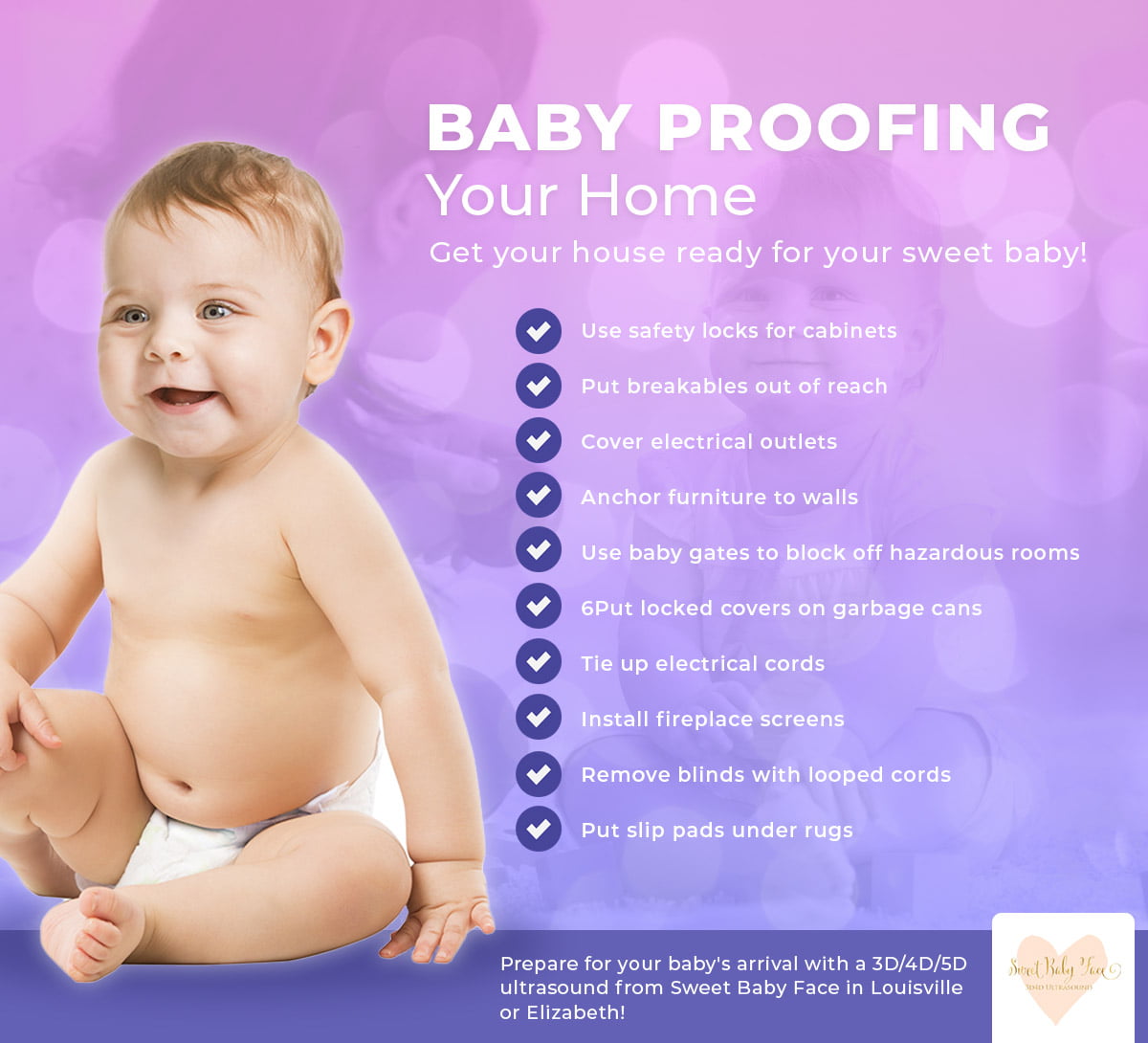 Set Up Your Bedroom
While many pregnant couples focus on creating a nursery (a beautiful project!), most parents keep their baby near them in their bedroom for the first few weeks or months. Rearrange your bedroom to make space for your baby and follow safety practices like keeping the crib away from windows, electrical cords, and heavy furniture. 
Babyproof Your Home
One of the most important projects of preparing your home is to make sure your home is safe. The best way to see if your furniture could be dangerous is to get on all fours and crawl around your home. It may feel silly, but it'll give you a perspective of a child and allow you to catch risks (like that sharp coffee table) that you may not have seen otherwise.
You'll also need to install safety locks on cabinets below the sinks in your kitchen or bathroom. That's where most people keep their cleaning supplies, and you don't want your child to get into anything that could harm them. You'll also need to put child-safe covers on your outlets to keep your baby safe from putting their fingers into sockets. Make sure you do this in every room of the house.
If you have stairs in your home, protect them with baby gates to prevent falls. They're also useful for closing off rooms that you don't want your child to enter so they can't wander away from you.
Lastly, anchor all your furniture to the wall, especially in the nursery and living room. Anchor dressers, shelves, and all heavy furniture so that your child can't pull them onto themselves and hurt them. 
Organize Your Kitchen
Your kitchen is going to get a lot of use when your sweet baby arrives! Look at your counters and see what you can store and what you should give away. Make room for a bottle rack or other baby materials, and clean out a drawer specifically for pump parts, bottles, and pacifiers. You'll also need to make room in your fridge for breast milk and formula, as well as all the food your family and friends will bring you when they come to meet your baby. 
Laundry Room
You're going to be doing a lot more laundry when your little one arrives! A little bit of thoughtful organization before your sweet baby arrives will set you up for success. Upgrade your hamper to one with compartments and get another just for the nursery. Wash the laundry that your baby will use first before they arrive and use a detergent that's made specifically for infants. 
Along with prepping your laundry room/routine, prepare yourself for the stains that will come along with your newborn. You may be a laundry pro, but newborns come with spit-up, poop, and urine. A stain remover for treating those stains before washing is a smart investment.
Create A Nursery
Now for the fun part! Decide where to set up your baby's nursery. If you have more than one room that could become a nursery, think about what you'll be placing there and how much space it'll take up. There are so many beautiful baby items you can use for decor, but focus on the essentials first, and then make room in the budget for decor. A crib, dresser, and glider are the most essential pieces. Add wall shelves for additional storage and a changing table to make getting dressed and undressed easy. 
Remember that not everything needs to be new, and your community may have plenty of hand-me-downs to gift you. If you have some inherited furniture that looks a little worse for the wear, give it some fresh (non-toxic) paint. Social media and baby stores can make you think that everything needs to match, but your baby won't know whether your crib and dresser came from the same place! 
Just like every room in your home, make sure that your nursery is safe. Make sure that the crib meets safety standards and that all outlets are baby-proofed.
Sweet Baby Face – Louisville & Elizabethtown Ultrasound Clinic
We hope that you feel a little more confident getting your home ready for baby! And if you're looking to schedule an ultrasound in Louisville, look no further than Sweet Baby Face. We offer 3D, 4D, and HD ultrasounds as well as ultrasound baby shower gifts like heartbeat animals. Want to make an elective ultrasound appointment? Contact our ultrasounds clinic in Louisville today!